Power Supply - SPS280W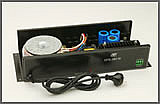 Details
The SPS280W is a fully adjustable output voltage power supply. The output voltage is normally preset at the factory, although it can easily be altered in the field. If this is done it is best to alter the output voltage under load.
| | | | |
| --- | --- | --- | --- |
| Stock Code | Description | Output Voltage | Current |
| 912.018.00 | SPS280W | 5-28V | 10A |
Specifications
Output Ripple Voltage @ Full Load
< 0.1%
Load Regulation (Zero to Full Load)
< 0.5%
Line Regulation (220-240V) @ Full load
< 0.1%
Output Voltage Range
5-28V DC Adjustable by internal potentiometer
Output Current
10A (14A Short Circut)
Electronic Circuit Current Limit
Approx 14A DC
Output Power (Max)
280W or 10A
Frequency of Operation
150kHz
Thermal Protection
Internal protection circuitry on board
Indication Lamp
Power on LED
Input Fuse
5A Slow Blow 250V AC internally accessible
Output Fuse
15A Fuse Wire
RFI Suppression
Yes
Main Input Nominal
230V AC 50Hz (115V AC possible)
Dimensions
L - 438mm W - 175mm H - 90mm
Weight
6.2 Kg
The power supply is factory preset at the customer specified output voltage (between 5Vand 28V DC). Mains input is via a 3-pin plug and flex; output terminals for + and - connections are provided outside the case.